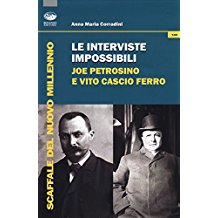 This work consists of two parallel interviews: the former to Vito Cascio Ferro, the "padrino" of Cosa Nostra, thought to be responsible for the assassination of the italian-american Joe Petrosino, killed at Palermo on the 12th of March 1909; and the latter to Joe Petrosino.
The author imagines to have interviewed Vito Cascio Ferro straight after the decision of the court to set free all the suspects was made public in 1911. The one done to Joe Petrosino is imagined to have taken place the day before he was killed, 12 March 1909.
This work gives a voice to both the killer and the victim, making them face straight forward and harsh questions and answers. In all this the conjunction thread between these two figures is the mystery of a homicide that will never be definitely solved.
All the descriptions of places, people and questions asked are based on the documented sources existing and the investigations made at the time from both the press and state forces  to solve this case.
Vito Cascio Ferro is the character on which Mario Puzo based the protagonist of his work "Il Padrino". This is the book to which the famous film "Il Padrino", directed by Francis Ford Coppola, refers too.
The book that I care to present in this brief analysis can be considered as an imaginary journalistic chronicle, that is based on facts that really occurred and existing documents. This homicide, which was brought back to life with the arrests of some mafia components in Palermo in June 2014, really shook the public opinion. One of the convicts, Domenico Palazzotto, got arrested after one of his phone calls was intercepted. In this call he brags about how his  father's uncle, Paolo Palazzotto, had killed Joe Petrosino upon request of the boss Vito Cascio Ferro in 1909. Palazzotto was one of the main suspects, but was later released due to insufficient proof.  Whether he was one of, or the killer, is not of primary importance.  What emerges from the investigations is way more relevant.  Vito Cascio Ferro and Joe Petrosino will tell you all about it in this book.